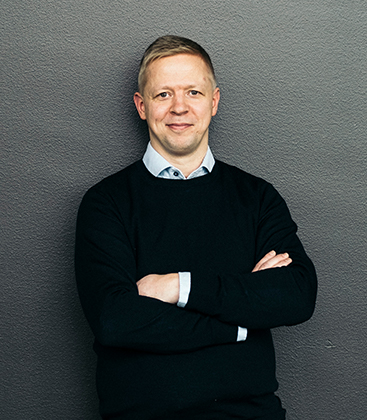 GS1 is a global organization that operates in 114 countries. It creates standards that are part of everyone's life. Its best-known products are the barcodes that are on every single consumer product in retail shops. GS1 Finland is an independent, non-profit corporation. Its largest owner is the Finnish Food and Drink Industries' Federation.
GS1 Finland's COO Tuomo Kronbäck has been in his current position for about six years.
"Naturally, we create a lot of other things in addition to barcodes. We collaborate in significant food value chain development projects, which typically involve more than 70% of our industry's main influencers – and at the other extreme we develop for example the traceability of surgical instruments," Kronbäck explains.
"I have a delightfully wide area of responsibility. It's definitely the best part of my job. I work closely with all my management team colleagues and I'm involved in all of our organization's processes," he says.
Kronbäck emphasizes that when a person has demanding responsibilities at work, it is also their responsibility to ensure that their expertise is up to date. He recently made a big investment in his own competence by completing the Aalto EMBA degree.
"My impression was that the Aalto EMBA would give me the skills of a helicopter pilot flying in the fog: I would learn how to read different metrics and signals even in situations where the ground is not visible. My main goal was to gain the ability to make faster decisions with a better probability of success, because in our rapidly developing industry, there is no time for in-depth analyses when you are making fast adjustments," he remarks.
A high-quality learning experience
Especially the first modules and the Aalto EMBA group receive a lot of praise from Kronbäck.
Our group was absolutely amazing – likeminded people from very different backgrounds.
"Our group was absolutely amazing – likeminded people from very different backgrounds. The modules were led by extremely talented professors and experts, and I was always looking forward to our EMBA weekends and our fantastic discussions," he reminisces.
"The way that the whole study experience started was a stroke of genius from Aalto EE. The Harvard simulation which demonstrated our power and influencing skills, Pekka Mattila, Ben Nothnagel – all this certainly left a lasting impression on every participant. We all knew that we were embarking on an extremely high-quality learning experience. The content was so insightful, and we gained excellent, useful tools," he affirms.
Kronbäck also mentions the Self-leadership module led by Esa Saarinen as a superb experience.
"I found myself contemplating things that I had never before stopped to think about in my entire life. It was truly meaningful and rewarding," he says.
"The communications module was also highly beneficial. We filmed our presentations and analyzed each other's performances as a group. It was a marvelous experience. The instructor had top notch substance expertise and with the support of all the other participants, everyone found new strengths and ways to give effective presentations," he points out.
The BSP exceeded high expectations
Kronbäck's favorite part of the EMBA program was the Business Strategy Project, BSP.
"I cannot reveal its content, that's a trade secret. But it is public knowledge that our group carried out the project for UPM. Knowing that we were creating valuable insights for extremely competent leaders added tremendously to the experience," he says.
"The best thing about the entire project was my BSP group. We shared great ambition to receive top marks for our work. This created an atmosphere where we all helped each other and genuinely invested in the project. My expectations were high, and the BSP exceeded them," he underlines.
Kronbäck's five-person BSP group was also able to meet face-to-face despite the pandemic.
The Aalto EMBA changed my mindset. It taught me how to draw a circle around the arrow depicting the logical chain of events.
"This was a big deal for an extrovert like me. Our EMBA group had had to move to online and hybrid learning in the middle of the program due to the coronavirus. Although the online learning was expertly arranged, it can never be quite as rewarding as meeting in person and having great discussions about everything we learned. In our BSP group, we were able to spend quality time together working on a fascinating topic and we did a fantastic job," he emphasizes.
Kronbäck says that he warmly recommends the Aalto EMBA program.
"Thanks to the program, I now know how to stop, listen and approach all decisions from a much broader perspective and even more analytically. The Aalto EMBA changed my mindset. It taught me how to draw a circle around the arrow depicting the logical chain of events," he describes.
"The Aalto EMBA gave me exactly what I was looking for: the ability to make better decisions in a VUCA-world and measure their success. I definitely recommend participating," he concludes.