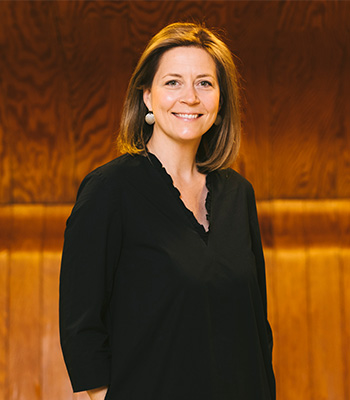 Alexandra Gylfe has a Ph.D. in tumor genomics and an MBA diploma from Aalto EE.
"I worked as a researcher for over 10 years. Then I moved on to lead an R&D team at Human Longevity, a San Diego-based venture launched by Craig Venter and Peter Diamandis," Gylfe explains.
"Working in the US was a very transformative experience for me. I gained a lot of valuable insights on fast scale-up environments and coping with rapid pivots. I also realized that I wanted to move from a specialist role to be more of a generalist."
After returning back to Finland Gylfe decided to enroll in the Aalto MBA program.
"The Aalto MBA served as a catalyst for my career development. It was really due to the MBA that I was able to jump from a specialist role into my current job," says Gylfe, who now works as Business Development Director at iCAN, a flagship in digital precision cancer medicine.
The Aalto MBA served as a catalyst for my career development."
"Our goal is to make iCAN a globally unique competence cluster. I thoroughly enjoy my job. My role is to attract new partners, manage ongoing projects, and foster our innovative culture in the iCAN community," Gylfe remarks.
New skills and perspectives
Gylfe explains that her work environment at iCAN is akin to working at a startup. The skills she learned during the Aalto MBA have been highly beneficial in her work.
"We work with commercializing new inventions, bridging the gap between research and business. Everything I learned about strategy, finance, entrepreneurship, and leading change has greatly influenced my thinking and my work," Gylfe mentions.
"I regularly utilize the strategic tools and frameworks I learned during the MBA to effectively plan and drive projects forward. Value chain analysis, value proposition canvas, and business model canvas are just a few examples of the tools that I have found particularly useful in my work," she adds.
Gylfe notes that the Aalto MBA gave her good exposure to diverse perspectives on business.
I regularly utilize the strategic tools and frameworks I learned during the MBA to effectively plan and drive projects forward."
"I found all of the modules interesting, and I liked the way that the modules were interrelated and built upon each other. I also liked the global perspective: In every module, we learned how things work worldwide," Gylfe comments.
"Thanks to the Aalto MBA, I now have a solid understanding of various areas of business, which helps me effectively communicate with colleagues across different functions," she says.
"I also make a conscious effort to approach difficult situations with increased empathy. The strong emphasis that was placed on unofficial organizations and building trust served as a valuable reminder of how central it is to understand people and their emotions, especially when driving change."
It's a marathon, not a sprint
Gylfe describes her time in the Aalto MBA program as incredibly rewarding.
"I really loved my time at Aalto EE. The teaching methods were interactive and stimulating, the guest speakers were marvelous, and all the professors had tons of relevant experience from the business world. It was really nice getting that injection as well, in addition to the valuable academic insights," she points out.
"Our MBA cohort was exceptional. The diversity of our backgrounds and experiences added a lot of flavor to our conversations. I always felt very empowered and energized after our discussions," she reminisces.
Looking back, Gylfe confirms that the Aalto MBA exceeded her expectations.
"The Aalto MBA is a great choice if you want to develop as a leader, gain a comprehensive understanding of business, and sharpen your ability to apply critical thinking and analytical reasoning," she says.
"I admit that I was a bit nervous before enrolling because I am a researcher by training. How would I manage all the business modules? It turned out I had nothing to worry about. The Aalto MBA is so well structured and organized, participants can come from very diverse backgrounds and still thrive in their studies," Gylfe emphasizes.
Gylfe points out that the Aalto MBA also significantly expanded her outlook on the range of career paths open to her.
"After the MBA, I could see all these alternative routes, and I knew I had all the skills I needed to leap to a job I find extremely interesting."
Gylfe has a few tips for people considering enrolling in the Aalto MBA program.
"Take your time and be courageous to adapt the program to your own needs and life situation. When I started, I had two toddlers at home, so I took some time off work to focus solely on the MBA. I am very glad I did that. It's a marathon, not a sprint."