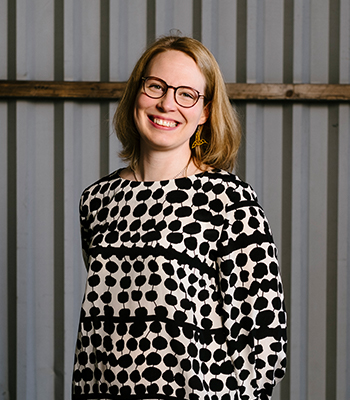 Specialist in equine diseases, Veterinarian Laura Muilu has been a Partner at Veterinary clinic Equivet since 2014. The Aalto MBA program gave Muilu many valuable development ideas, most of which have already been successfully implemented at Equivet.
"Equivet recently purchased Finland's first computed tomography device for horses. Aalto MBA's Business Project inspired us to make this important investment. Our small company has taken considerable steps forward, thanks to the Aalto MBA. Our inventory management, cash flow management, marketing, and internal communication, for example, are all much stronger because I participated in the program," Muilu lists.
Muilu knew she wanted to be an equine veterinarian from an early age. A few years ago, she decided to enroll in an MBA program as well.
"I wanted to learn more about entrepreneurship and leadership to guarantee our company's success, growth and consistently good service to our customers," she explains.
"Equivet has a clinic manager who takes care of routine business, but all four of us owners are closely involved with all issues pertaining to running our clinic. Finance, HR, marketing – everything goes through us in one way or another," says Muilu.
Muilu originally planned to participate in a Dutch MBA customized for veterinarians. When this program was cancelled, she started looking for an option closer to home.
Aalto MBA was an easy choice."
"I wanted a triple accredited program that offered high-quality education. Aalto MBA was an easy choice," she reminisces.
Valuable development ideas for a small company
Muilu describes the Aalto MBA as a very well-organized, inspiring program.
"The instructors were very knowledgeable and pedagogically skilled. Our studies were highly interactive. Beforehand I supposed that studies lasting until nine pm on weekdays could hardly be all that stimulating, but I was wrong. The schedule was tight, and we advanced fast, but nearly every module was tremendously interesting," she says.
Case-based learning and group work were particularly gratifying experiences for Muilu.
"The best part of the entire program was our group. Discussions with participants coming from a wide array of backgrounds were very rewarding and taught me a lot. I also liked the fact that learning always required figuring things out for yourself, for example through case exercises. This ensures a much deeper learning experience," she points out.
Discussions with participants coming from a wide array of backgrounds were very rewarding and taught me a lot."
The Aalto MBA program includes a long-term Business Project, for which participants suggest project companies and the most popular ones are elected winners.
"I was so happy that Equivet was chosen as one of the projects – the other winners based on the voting done within the MBA cohort included for example large corporations such as Stora Enso and DNA. The Busines Project was immensely valuable for our company. We have changed our entire structure as a result of the project and carried out nearly every single development idea identified during the project," Muilu remarks.
A helicopter view of the business world
Muilu says that the Aalto MBA gave her more than she had anticipated.
"I gained an excellent helicopter view of the business world. The program not only gave me a great deal of new knowledge and tools, but it taught me how to think in a new way," she notes.
"I also gained much deeper self-knowledge. I understand other viewpoints much better. Everyone is not as fast-paced as I am – I am now much better at interacting with people who need more time to process things," she ponders.
I also gained much deeper self-knowledge."
Muilu affirms that she is happy to recommend the Aalto MBA program. She emphasizes that it is an excellent choice for entrepreneurs as well, because decision makers in smaller companies can easily implement development ideas that they get during the program.

"The program actually exceeded my expectations. I gained tremendous benefits both for me personally and for Equivet. The Aalto MBA gave me great insights about leadership, strategic planning, and how to create new jobs and a good work environment," she says.
"I recommend participating. You don't necessarily have to have extensive business experience to reap considerable benefits from the program. Of course, you must be highly motivated – and if you have a family, you should ensure that you have their full support," she highlights.