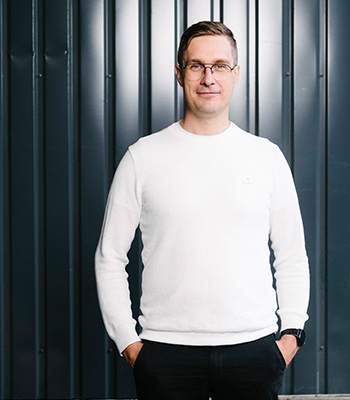 Data, Analytics, and AI for Professionals Program
Chief Design Engineer Henri Wenlin has worked at KONE Corporation for eight years. Above all, Wenlin enjoys solving problems.
"I have a genuine passion for problem solving. I've worked with new equipment my whole career. It is extremely rewarding when you first come up with a solution with a smaller team, then you see how the idea starts to develop – and it eventually becomes something that brings genuine value to the end user. It's a marvelous feeling," Wenlin says.
Wenlin is very interested in the possibilities created by artificial intelligence. Artificial intelligence is already used in many ways at KONE Corporation today. For example, KONE 24/7 Connected services uses artificial intelligence in maintenance to identify potential equipment failures and prevent problems before they can occur.
"KONE Corporation is a huge organization. We have versatile AI talent, but I didn't have a common language with our AI experts. I wanted to learn how to ask the right questions and engage in dialogue with our AI experts about the possibilities that AI brings to our new equipment business," he remarks.
"When my supervisor told me about Aalto EE's AI programs, I was immediately intrigued. I already had a positive image of Aalto EE because I had participated in a tailored data analytics program that Aalto EE created for KONE Corporation. It was an excellent experience, which also served as an incentive to delve deeper into the possibilities of artificial intelligence," he points out.
New energy and highly skilled instructors
Wenlin participated in Aalto EE's AI program (previously Diploma in Artificial Intelligence) program. He describes the experience as excellent.
"I pondered in advance whether the program would be too demanding alongside my busy work, but I was positively surprised to find that the effect was quite the opposite: I was invigorated by the program. It gave me new energy," he reminisces.
"The instructors were Finland's top names, highly skilled teachers. Whenever I asked something, their answers confirmed how deeply knowledgeable they were about the topic. Our discussions were immensely rewarding and continued even during coffee breaks," he adds.
Wenlin praises the diverse content of the program.
"We explored the world of artificial intelligence from many different perspectives. I learned, for example, how Netflix's recommendation algorithms work. One might assume that this is in no way relevant to my work, but surprisingly enough, it is. Aalto EE's AI programs open up a world of opportunities," he underlines.
As his course project, Wenlin investigated whether a scale measuring the load on an elevator could be replaced with machine learning.
Thanks to my excellent coach, I was able to look at more advanced algorithms and dive deep into the subject.
"I studied whether we could omit the existing physical component and get the information it produces from elsewhere, without adding anything to the system," he says.
"Everyone was assigned a coach who was carefully selected to suit their project topic. Thanks to my excellent coach, I was able to look at more advanced algorithms and dive deep into the subject. I verified that my idea could work in practice. Of course, implementing it would require a lot of work and certification, but it was fascinating to figure out how we could replace a component with artificial intelligence," he reflects.
A shared language with AI experts
Wenlin says that the AI program gave him a good overview of artificial intelligence. He also got ideas on how to implement solutions in new equipment, which could create value for KONE Corporation's service business and sales.
"Our service organization is a large and significant business for KONE Corporation. On the new equipment side, we are creating systems that our service business will take care of in the future," he explains.
"By strengthening AI expertise in new equipment, we can better take into account the subsequent use of AI already at the design stage: we can build the capabilities needed for AI applications on new devices from day one, instead of adding them on afterwards," he continues.
I now have a better understanding of the work that KONE's AI experts do, and I know how to ask the right questions.
Wenlin underlines that his new understanding of AI has already been useful in his work and will definitely be beneficial in the future.
"I now have a better understanding of the work that KONE's AI experts do, and I know how to ask the right questions. Just recently, I was listening to a presentation by our analytics team and was able to have a fruitful discussion about our opportunities to utilize artificial intelligence in new equipment," he describes.
"I am now working with early-stage concepts and exploring what we could do in the future. We have exciting ideas related to artificial intelligence and new equipment, but they are trade secrets that I can't talk about in more detail," Wenlin says with a laugh.
Wenlin affirms that he is happy to recommend Aalto EE's AI programs.
"I sincerely recommend participating and making the most of the opportunity," he emphasizes.

Data, Analytics, and AI for Professionals Program
Based on the Diploma in Artificial Intelligence training, we created the new Data, Analytics, and AI for Professionals (DAAP) program that brings together our best content and trainers focused on data, analytics, and artificial intelligence.