Esa Vennola previously worked in the transportation and logistics industry. When his employer initiated co-operation negotiations, Vennola began to think about heading another route. "The co-operation negotiations were partly a blessing in disguise. I'd been thinking about changing fields, and now it became a reality. I decided to take a risk: jump out of the old and think about something totally new."
Exploring study options, Vennola came across Aalto PRO's Further Educated with Companies (F.E.C.) program, which has an aim of bringing together job candidates and companies looking to recruit. The program included both academic studies and a period working for the potential new employer. Vennola got in touch with Signal Partners, which he knew from his previous work. Could the company provide a placement for the program?
They sure could. CEO of Signal Partners Pekka Laitinen sees the recruitment path that combines training and work life as an excellent opportunity.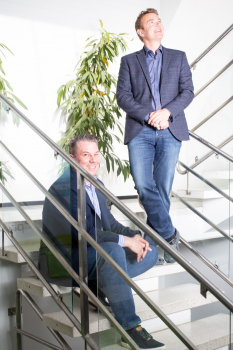 "The induction period needs to be longer than average when an employee switches into a new industry. Six months provides good time for the candidate to get to know the company and industry in peace. And there's no financial pressure for the employer during the period, as it doesn't involve paying a salary. For an SME like us, it's a really good, risk-free, cost-effective way to find a competent employee."
According to Vennola, the period is beneficial also for the candidate: you become familiar with the job culture and begin to see how you could contribute to the business. "I got to see the company without restrictions. Especially when changing fields, it's valuable to gain insight through practical work."
Signal Partners helps companies improve their operational efficiency through mobile solutions. It designs, builds, deploys, manages, and oversees its customers' data networks and mobile solutions. Finding the right people to work in the industry is "one of the most challenging areas at the moment", according to the CEO. The F.E.C. program provides enough time to get to know one another and learn. "I recommend it, absolutely", says Laitinen.
Esa Vennola now works as Business Support Manager at Signal Partners. He was particularly interested in the modules on change management. The program included about twenty face-to-face days at Aalto PRO's premises. "The F.E.C. program merged together two areas: finding a new industry coupled with advanced studies in business development."
When changing fields, it's valuable to gain insight through practical work."
Since Vennola arrived, tendering has resulted in better suited logistics partners and savings in transportation costs. Also the company's own pre-assembly, storage, and logistic premises have been developed. "Studies related to Aalto PRO's program have supported practical work, and in our case it's pretty safe to say the program fulfilled expectations all round", says Laitinen.
Establishing an employment contract the main aim
The Aalto PRO F.E.C. programs aim to join a company looking to recruit a new employee with a competent, motivated jobseeker. During the training, the candidate diversely develops personal competence and works for the potential new employer. The concept is developed jointly with and funded by the Centre for Economic Development, Transport and the Environment. More than 40 per cent of the teachers on the programs are from Aalto University. The programs have helped companies find a new managing director, trained those who want to change industries, and assisted in the recruitment of recently graduated doctoral students.
Aalto University Professional Development, Aalto PRO, has provided workforce training for more than 25 years. The Further Educated with Companies (F.E.C.) program is an approximately six-month, unpaid cooperation period with a potential employer. The aim of the program is to sign an employment contract. The program is based on a training contract, and includes induction and practical work in the company as well as training provided by Aalto PRO.