Aalto University Expertise Customized for Your Organization
Our unique training solutions can be built on Aalto University's degree studies adding to them modules, workshops, or other learning elements tailored to the needs of our customer organizations. This gives participants a unique opportunity to learn and network with Aalto University's degree students and for their organizations to benefit from the vast expertise of Aalto University while boosting their competence development and building organizational capabilities.
Our high-quality, interdisciplinary, and impactful training solutions help our client organizations reach their competence development goals, from broadening participants' horizons to reaching for organizational renewal.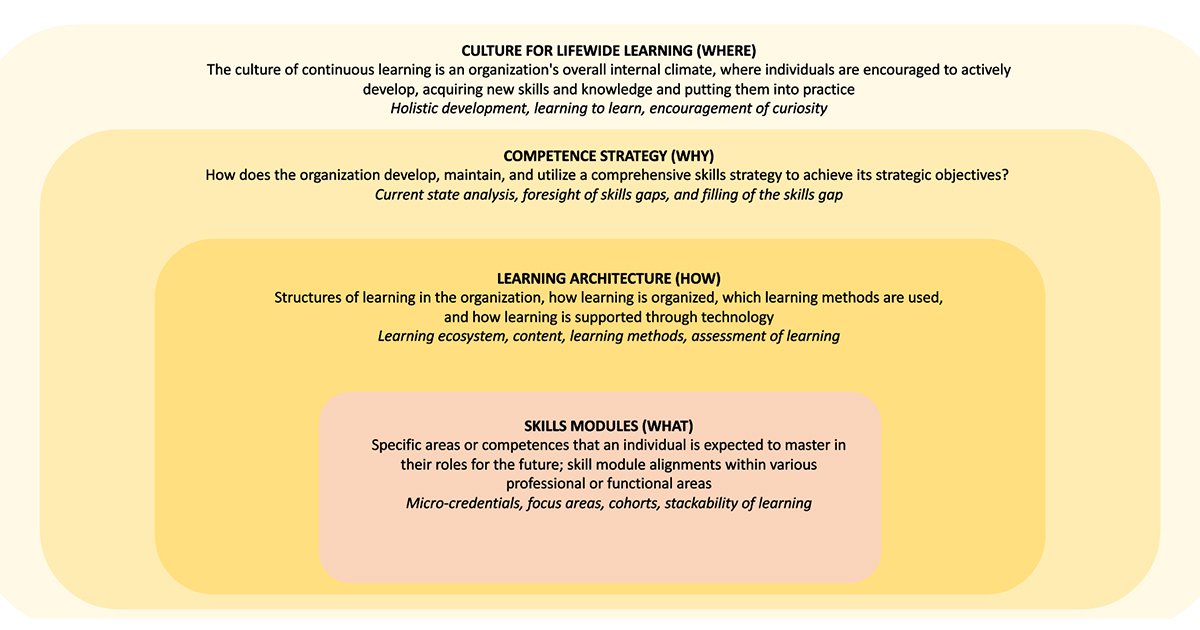 How can Aalto University support in up- and reskilling needs?
In response to diverse learning needs, a flexible approach is offered. Learners can choose between online or on-campus study, and they have the option to progress at their own pace or participate intensively in a group setting. For those seeking quick information and skill acquisition, individual courses, modules, lectures, and micro-credentials are available. On the other hand, those looking for long-term knowledge enhancement can opt for continuous professional development and degree programs, which provide in-depth learning experiences. This adaptable approach ensures that education aligns with individual goals and preferences, catering to a wide range of learning objectives.
Short courses and Micro-credentials
Micro-credentials are small, focused units of learning that demonstrate competency in a specific skill or knowledge area
European standards for micro-credentials guide verification of credentials
Origins of micro-credentials can be found in the rise of online learning platforms and the need for flexible, accessible and affordable education option
The increasing demand for skill-based learning to address the dynamic job market needs drives micro-credentials development
Certificate and Diploma programs
Certificate and diploma programs are designed around specific topics. Study modules incorporate customized content and engaging courses from Aalto University's degree offerings.
Participants can choose to study online or on campus, at their own pace or intensively in a group, based on their individual needs and goals. The flexible multiformat teaching and the ability to tailor one's own studies provide a high degree of adaptability.
These programs empower employees to obtain academically recognized credentials and at the same time certificate-based pricing ensures scalability and upselling opportunities.
Career gateway programs
A gateway program focusing on post-graduate employment is typically designed to help recent graduates transition from the academic environment to the professional workplace. These programs generally equip students with skills, knowledge, and opportunities that enhance their employability and readiness for the job market.
Generally, the participants already have a Master's degree in an Engineering/Technical field from a country outside EU/ETA or from another specialization
The program emphasizes not only technical acumen but also nurtures soft skills, fostering well-rounded professionals ready to excel in their chosen fields.
Participants benefit from enhanced job readiness, expanded professional networks, and a stronger alignment with industry expectations and trends, positioning them favourably in a competitive job market.
Contact Us
We will help to find the best solution for your organization.

Hanna-Riikka Myllymäki
Director, Lifewide Learning Development and Alumni Relations
Director, Public Affairs