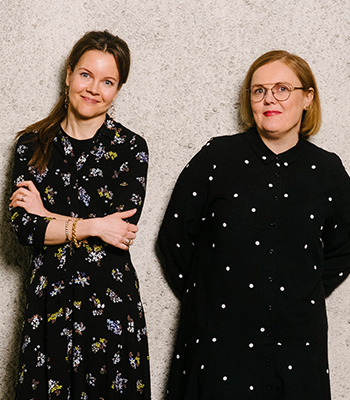 Silmäasema is a 100% Finnish specialist company in eye health and vision care. Silmäasema serves domestic customers in 140 stores and 16 eye hospitals. The company also has five stores in Estonia.
Silmäasema's Commercial Director Pauliina Aalto and Marketing Director Anne Rantanen both participated in the Aalto MBA program during 2020–2021.
"I've learned tremendously through my work and gained new responsibilities over the years. It is easy to progress to a certain point in work life, but once you reach it, it is a good idea to update your skills and look for fresh ideas. My goal was to get new insights and tools from the Aalto MBA program that would help me succeed in my job," Pauliina Aalto explains.
"My goals were very similar. The Aalto MBA program has an excellent reputation, and I was convinced that I would gain new inspiration for my work. As a marketing professional I was also impressed by Aalto EE's admissions process," Anne Rantanen reminisces.
Relevant content and growth as a leader
Anne Rantanen affirms that the program's versatile content has proven useful at work.
"The content was highly relevant. We dealt with the ongoing pandemic from an economic and business perspective, which I found very interesting. My favorite module was Leading Change. Silmäasema left the stock exchange in 2020 when we became part of Coronaria Group. Leading Change gave me in-depth understanding of what happens when two corporate cultures merge and how to support people in the change," Anne Rantanen says.
"The Marketing module was a particularly delightful surprise. Even though I've worked in marketing for nearly 20 years, this well-structured module gave me concrete new insights for my work," Anne Rantanen adds.
"The Aalto MBA expands your thinking and changes you as a leader."
Pauliina Aalto says she was positively surprised of how much Aalto EE invests in the personal change journey of each participant.
"The Aalto MBA expands your thinking and changes you as a leader. I am in charge of a team of extremely professional and passionate employees. The most rewarding part of my own job is being able to empower my team members and transfer their competence into group-level assets. Understanding on how to involve my team members in creative thinking and knowledge about various problem-solving tools that can be utilized in business were the most valuable lessons I learned during the MBA," Pauliina Aalto describes.
Participating together was a lucky coincidence
Pauliina Aalto and Anne Rantanen had not planned on participating in the Aalto MBA program together. It was merely a lucky coincidence.
"We almost did not find out about it before our first module together," Pauliina Aalto says with a laugh.
However, participating in the same program was beneficial. They actively reflected on everything they learned together, and also successfully secured Silmäasema a sought-after position as a case company in the Business Strategy Project, BSP.
"During the BSP, we very concretely observed how powerful collaboration can be. Our group was superb. We researched and advanced issues that our organization would typically work on with external consultants. During the BSP we defined a digital service offering road map for Silmäasema," Pauliina Aalto remarks.
"My responsibilities at Silmäasema expanded during the autumn, as I was put in charge of our digital services. The BSP brought clear benefits for Silmäasema," Anne Rantanen adds.
The Aalto MBA is not an insurmountable task
Pauliina Aalto and Anne Rantanen's MBA group had three modules in-class before they had to move to online learning. Although the necessary transition was a setback, it had its benefits.
"Fortunately, our group had time to get to know each other and build good team spirit before moving to online learning. I personally received a lot of ideas from the MBA online learning, which helped me in transferring my own and my team's work to remote mode at Silmäasema," Pauliina Aalto points out.
In the Aalto MBA program you don't have to take care of a single practical issue after you have jumped onboard."
"While I prefer learning in-class, the online experience was primarily quite smooth. Online learning may also have made it easier to combine demanding work and studies," Anne Rantanen ponders.
Pauliina Aalto and Anne Rantanen emphasize that the study experience in the Aalto MBA program was vastly different from studying for instance in a basic university degree program or participating in open university classes.
"In the Aalto MBA program, you don't have to take care of a single practical issue after you have jumped on board. Enrolling in modules, finding books and other material, arranging tasty snacks and lunches, all these things are taken care of by Aalto EE's incredibly helpful staff. Your only job is to focus fully on learning," Anne Rantanen confirms.
Pauliina Aalto and Anne Rantanen say that they are happy to endorse the Aalto MBA program.
"The program requires commitment. You have to immerse yourself fully. If you are ready to work, I warmly recommend participating. For both of us, our employer's support meant a great deal – it is highly advisable to ensure that both your family and your employer understand just how much the program demands," Pauliina Aalto underlines.
"You won't succeed without breaking a sweat, but the Aalto MBA is not an insurmountable task. I recommend participating," Anne Rantanen concludes.