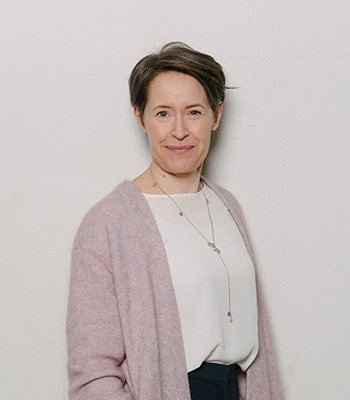 Head of Internal Controls Johanna Kantokari is responsible for KONE Corporation's global internal controls.
"Internal controls used to be a locally driven activity at KONE. When I joined the company 4.5 years ago, I was tasked to build our global internal controls framework and processes supported by these local activities: I got to define what we do on the global level, and in what order. The best thing about my job is the versatility and independence. Every single day is different – and as a work community, KONE is superb," Kantokari says.
Kantokari holds a master's degree in Economics and Business Administration. She has also graduated from the Aalto Executive MBA program.
"I had worked in internal controls for quite a long time when I decided to apply to the Aalto EMBA program. I wanted to strengthen and expand my business acumen so that I could better understand what my partners and stakeholders do and what is important to them," she explains.
A marvelous and demanding EMBA experience
Kantokari sums up her EMBA experience in two words: marvelous and demanding.
"The Aalto EMBA both forces and inspires you to think. Leading Change was a highly beneficial module, as I work a lot with change management. Corporate Sustainability was a particularly rewarding module, it gave me many insights and points to consider," she reminisces.
Sharing the EMBA journey with such like-minded people was wonderful.
Interaction with the other EMBA participants significantly enriched Kantokari's learning experience.
"We were the first so-called covid group. Even though a lot of the learning took place remotely, we developed remarkable team spirit," she underlines.
"During the Aalto EMBA, I got a new EMBA family alongside my own family, old friends, and colleagues. Sharing the EMBA journey with such like-minded people was wonderful – and our journey continues, because we have all kept in touch after our studies."
Kantokari remembers the Business Strategy Project, BSP, as a particularly rewarding experience.
"I have worked in the private sector for my entire career. The BSP offered a unique opportunity to explore a world that I would never otherwise come across. I was part of a BSP group that investigated how to make productivity personal at Kerava City's health services. It was a fantastic experience," she describes.
"Our BSP group included an engineer, a lawyer, a doctor, and two participants with business degrees. Although we were very different kinds of people, our group dynamics worked brilliantly. Everyone brought their own strengths to the project, and even though I say so myself, we did an excellent job: it was very gratifying to receive the highest academic grade for the project, but above all, I am proud that the results of our work are now being put into practice in Kerava."
The Aalto CFO Program made the EMBA journey easier
Kantokari says that the Aalto EMBA program was an obvious choice for her because she had attended the Aalto CFO Program a few years ago and knew that Aalto EE offers top-notch education.
"Thanks to the Aalto CFO Program – or Aalto Financial Executive, as it was called at the time – my EMBA journey was a bit easier," she notes.
There were a few other participants in Kantokari's EMBA group who also started their studies with the Aalto CFO Program.
"We got to jump straight into elective modules while others studied finance. For me, this path was a great choice. It enabled me to combine studies, work, and family life without taking any study leave, even though our children are still quite young," she remarks.
Time to reflect and important insights
Kantokari says that she got exactly what she was looking for from the Aalto EMBA program.
"The Aalto EMBA allowed me to take time for myself. The program broadened, refreshed, and deepened my business acumen, and it taught me a lot about my own operating models and how I react in different situations. I also learned to communicate and negotiate in a way that promotes the desired change and outcome," she mentions.
"Furthermore, I gained important insights during the program. For example, I understood how we at internal controls can help KONE Corporation achieve its strategic goals."
In the Aalto EMBA program, you'll never feel like you are on your own. Support and help are always available.
Kantokari has one important message for people considering EMBA studies:
"If you are pondering whether you have what it takes, I want to assure you that you can do it. You are stronger than you realize, and you will do a great job. The most important thing is to clarify for yourself why you want to embark on this journey," Kantokari emphasizes.
"Yes, you might feel tired once in a while, but during the last module you will probably be wistfully wishing that it would not end! The experience is amazing, and you should definitely go for it," she affirms.
"In the Aalto EMBA program, you'll never feel like you are on your own. Support and help are always available, both from your fellow students and Aalto EE's amazing staff. I highly recommend participating."
Since this interview was conducted, Johanna Kantokari has moved to another company.