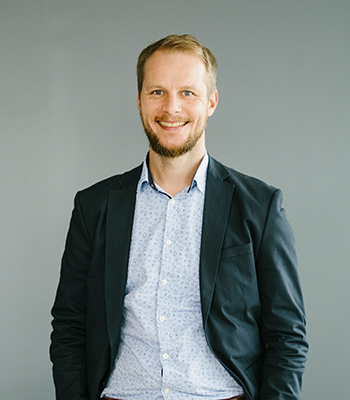 Sweco plans and designs the sustainable communities and cities of the future with its 17,500 strong staff. Managing Director of Sweco Infra & Rail in Finland Juho Siipo has always been enthusiastic about challenging himself and self-development. In 2021 Siipo finished his Aalto EMBA degree.
Siipo affirms that he is extremely pleased with the study experience. The Business Strategy Project, BSP, receives special praise from Siipo.
"Luckily, the project I suggested for Sweco was chosen as one of the BSP cases. The project was tremendously beneficial for my employer. Our BSP group was enormously motivated, and everyone put their heart into the work," he says.
"In our design business, an annual organic growth of 5-10% is considered good. After the BSP – which focused on achieving synergy benefits following an acquisition – the net sales of our infra division's design business grew about 15% organically. Many factors contributed to this, but the BSP played a significant role. I don't believe we could have reaped such results with external consultants," Siipo underlines.
Don't wait for the right moment
Siipo chose the Aalto EMBA program after considering various options.
I waited for the perfect moment for a while, but then I realized that there is no such thing. If you are contemplating studies, do it now."
"Aalto EE's highly inclusive and participatory approach was very appealing to me. I feel that learning together, you gain more in-depth understanding and insights than you would just learning on your own," he describes.
Siipo had thought about obtaining an EMBA degree for some time.
"I waited for the perfect moment for a while, but then I realized that there is no such thing. You just have to make the decision and go for it. This is what I recommend to others as well. If you are contemplating studies, do it now. You will find the time – and you will soon find a routine and a balance between work, studies, and free time," he remarks.
Siipo points out that the time spent studying is not time spent entirely away from work. The assignments before and after each module, for example, are designed in a way that makes it easy to link them to your own work.
"I felt I was also working productively for my employer when I was studying. During the EMBA, Sweco acquired NRC Group's design business. The acquisition and subsequent integration provided a marvelous case that I could link to almost every assignment, regardless of whether the module's topic was strategy, communication or for example sustainable business," he says.
A passion for learning more
For Siipo, learning has now become habitual. He used to read two to three leadership books a year, but now this number has increased considerably.
"The Aalto EMBA program awakened a passion for learning even more. This may of course be temporary, but at present I am binge-reading leadership literature. I also started a reading circle for managers here at Sweco. We regularly read books on self-development, leadership, and work life together and discuss them. It's fascinating how different findings people can get from the same book," he ponders.
Siipo says all the modules provided beneficial insights and tools. He mentions the finance module lead by Vesa Puttonen and the corporate responsibility and sustainability module lead by Arno Kourula as especially memorable.
"Our Study Tour to Boston was also an outstanding learning experience. Our group did not let the world-class professors off easy. We challenged them so much during discussions," he reminisces.
The Self-development Process which lasts the duration of the studies was also an experience that Siipo enjoyed particularly.
We had an awesome group and luckily we have all kept in contact after the program as well."
"I learned that a leader's authenticity resonates and creates a feeling of a low hierarchy for everyone at work. Great results and innovations are not born out of burning the candle at both ends, but through joy and positivity. The Self-development Process was integral in shaping this view, as were the discussions we had in our cohort – and naturally the entire EMBA gave the theoretical foundation for this mindset," he explains.
Marvelous comradeship
Siipo points out that one cannot overemphasize the cohort's meaning when speaking of the Aalto EMBA.
"Our group's remarkable comradeship was definitely the best part of the entire program. You learn so much from other people's experiences. We had an awesome group and luckily we have all kept in contact after the program as well," he says.
Siipo says that he is happy to recommend the Aalto EMBA program.
"I already have recommended it, warmly. The Aalto EMBA gave me exactly what I wanted: I got a holistic outlook on business, I learned to speak the same language with finance professionals, and I hope that others see me as a better person and leader. The studies also improved my language skills and learning technique. And as a bonus my employer reaped remarkable benefits from the Business Strategy Project," he emphasizes.