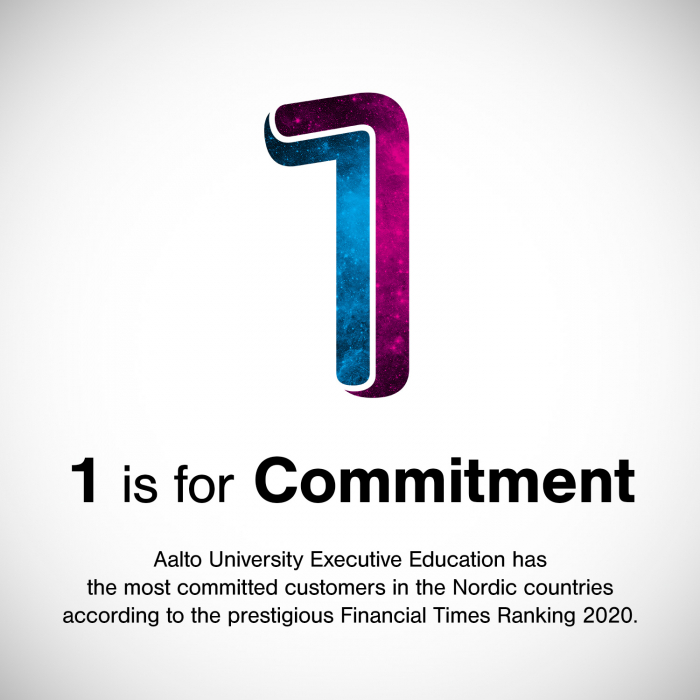 Competition among the top 100 in the management development sector is fierce and the ranking position is influenced by many factors, such as the impact of programs on individuals and corporate clients.
The Financial Times assigned a rating for open-enrollment programs as well as for programs customized for corporate clients. Aalto EE placed 36th (in 2019 ranked 34th) in the customized category and 61st (in 2019 ranked 56th) in the open programs' category.
Aalto EE monitors its effectiveness on a sustained and continuous basis. In addition to external recognition, the customers' experiences and proven impact and results are crucial.
- Success in our field is increasingly based on networks and in the ability to react. I am especially happy with our new partnerships with Berkeley and United Arab Emirates University, for example. At the same time, it is vital to be able to adapt to the client's needs and to be agile, especially when it comes customized solutions," says Dr. Pekka Mattila, Group Managing Director of Aalto EE and Professor of Practice of Aalto University School of Business
Business in a changing international environment requires cooperation and a multi-disciplinary approach
Aalto EE cooperates with the various schools of Aalto University. Versatile methods used in art and design are utilized in our programs supported by School of Arts, Design and Architecture, ranked 7th in the world by QS. For example, the Business of Culture program helps develop the leadership and management of the cultural sector in the Nordic and Baltic countries.
In leadership and strategy related programs Aalto EE cooperates especially with Aalto University School of Business. Aalto BIZ was ranked 29th in business administration and 32nd in the field of management in the QS rankings.
Aalto EE collaborates with the Finnish Center for Artificial Intelligence (FCAI), one of the Academy of Finland flagships, in the utilization of artificial intelligence and data in business.
The Financial Times ranking in brief
Open-enrollment and customized executive education programs are ranked separately in the FT Executive Education ranking. The overall listing is based on the total rating achieved in these two categories. The ranking is based on customer feedback and statistics provided by the institutions themselves. In its report, the Financial Times only ranks the top 50 executive education providers. Globally, executive education and MBA programs are offered by over 4,000 institutions.
This year's top three were once again the Spanish Iese Business School, the French HEC Paris and the Swiss IMD. ESADE, a strategic partner of Aalto EE, came 11th. The Stanford Graduate School of Business, which have co-created the "Certificate in Digital Business Strategy and Innovation Agility" program with Aalto EE, came sixth. Now participating for the 20th time, Aalto University Executive Education is ranked under the name Aalto University.
* QS (Quacquarelli Symonds) is one of the most significant university rankings.
For more information
Pekka Mattila
D.Soc.Sc, Group Managing Director, Professor of Practice
Aalto University Executive Education Ltd.
Tel. +358 (0)40 738 7221
pekka.mattila@aaltoee.fi
Aalto University Executive Education Ltd.
Aalto University Executive Education offers high-quality executive education and leadership development services (Aalto EE), professional development programs (Aalto PRO), and entrepreneurship development services (Aalto ENT). This multidisciplinary program platform combines practical expertise with the newest research from Aalto University.
The core strengths of the company are its global operating model and versatile programs. We offer programs in various locales in addition to Finland and Singapore. Aalto University Executive Education holds three prestigious accreditations: AACSB, AMBA, and EQUIS. It belongs to the top 0.5 percent of the best institutions in the world.