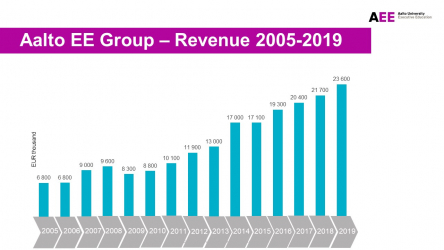 As one of the top 50 business schools in the world, Aalto EE is confident about the future, despite the unstable global situation. The company will create the largest hub of leadership and professional development in the Nordics in the Aalto Töölö building during the current year. The move to the former main building of the Aalto University School of Business, currently under renovation and remodeling, will happen at the end of the year. Similarly, investment in digitalization will continue.
"We once again achieved a year of strong growth, despite the uncertain business cycle. Our operations are increasingly based on networks with top international universities. For example, relationships with Stanford, Yale, Berkeley, Warwick, and KAIST have been further strengthened during last year. However, a network of global activities increasingly exposes us to serious disturbances and threats such as the coronavirus. Increasingly diverse digital solutions help us manage these risks," says Dr. Pekka Mattila, Group Managing Director and Professor of Practice at Aalto University School of Business.
Every year, a large sum of money is channeled back from the company to the Aalto University community in various ways, such as dividends, royalties, training and coaching fees as well as rent. The financial footprint of the company—owned by the University—in the Aalto community in 2019 was approximately EUR 3.3 million (EUR 3.7 million in 2018). The aforementioned footprint decreased in 2019 due to the substantially lower rental payments during the extensive reconstruction of the Aalto Töölö building – the future home of Aalto EE.
More Information
Dr. Pekka Mattila
Group Managing Director, Professor of Practice
Aalto University Executive Education Ltd
Telephone +358 40 738 7221
pekka.mattila@aaltoee.fi
Aalto University Executive Education Ltd
Aalto University Executive Education Ltd offers thought provoking leadership development services (Aalto EE), professional development services for specialists and managers (Aalto PRO) and creative solutions covering the whole life cycle of entrepreneurship (Aalto ENT). Aalto University brings to our offering a multidisciplinary approach, together with innovative learning methods; this provides a unique combination of practical expertise with the latest research.
Aalto University Executive Education's strengths lie in its global operating model and diverse offering. In addition to Finland and Singapore, Aalto University Executive Education offers education programs in multiple locations worldwide. As a part of Aalto University, it holds three respected business university accreditations – AACSB, AMBA, and EQUIS – which places it among the top 0.5% of institutions in the world.