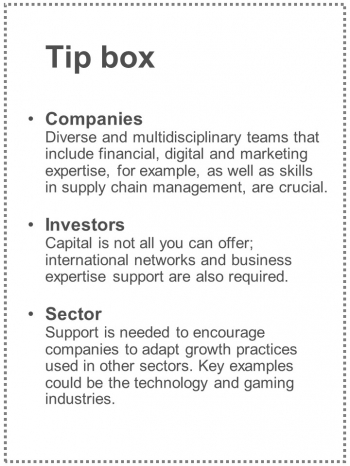 A recently-completed business project realized as part of the Aalto MBA program examined ways of making a major international leap in growth in a competitive global market. A push for development and growth is needed within companies, from investors, and in the surrounding ecosystem.
"The challenge is finding ways of growing businesses from cottage industry proportions to an industrial scale. This requires financial and systems expertise," explains the project's academic tutor, Group Managing Director for Aalto EE, and Professor of Practice at Aalto University School of Business Pekka Mattila.
"Design-driven companies require diversity and multidisciplinarity from their founding members and teams, who must have the right capabilities when it comes to encouraging growth in internationalizing business and specialist expertise in the likes of supply chain management, marketing, digitalization and financing," summarizes Tuuli Mäkelä, one of the authors of the report. She currently works as a Senior Advisor on entrepreneurship and business policy at the Confederation of Finnish Industries.
Promising growth companies in the sector also require motivated and skilled investors who can provide not only capital to support the next stage of growth, but also the international networks and strong business expertise vital for growth, to complement the entrepreneurs' design skills.
"This requires the development of a new kind of financing culture in Finland, as well as broad-ranging networks of international investors focused on consumer brands, from the other Nordic countries for example," states Suvi-Elina Enqvist, another of the report's authors, who currently works as the Global Sales Manager for Marimekko Oyj.
The report also encourages the industry to adopt and adapt growth practices and expertise from other sectors, such as the technology industry. Models providing a sense of communality that will attract international financers and experts can also be sought from other creative sectors, such as the gaming industry.
Business projects are implemented as group work between Aalto MBA participants under academic guidance. In addition to Suvi-Elina Enqvist and Tuuli Mäkelä, the report was authored by Jani Joenniemi, Mikko Lassila, Juha Pietarinen and Tom Tuiskula.
Suggestions for Moving Forward: Bridging the Gap between Brands and Investors
The following list is a roundup of our suggestions on how to help bridge the gap between growth companies and investors in Finland.
Checklist for Entrepreneurs
Communicate a great story and clear purpose that responds to current megatrends such as sustainability and digitalization.
Set out to build a diverse and multi-disciplinary international team to strengthen investor confidence. Company cultures play a key role in attracting key talent.
Experiment with new business models that are of particular interest for investors, such as direct-to-consumer channels, on-demand production and circular business models.
Remember the power and expertise of an active board.
Checklist for Investors
Aside from just capital, be prepared to bring in a lot of knowhow and networks to support budding design entrepreneurs and teams in scaling their business.
Coach entrepreneurs on skills and milestones needed to reach the next stage funding such as VC investments.
Exchange information with other experienced investors in the field, both in Finland and in the Nordics. Investor communities have a key role in facilitating networking among investors across the Nordics.
Look into innovative funding models and mixes that can cater to the needs of companies in the sector
Checklist for Ecosystem Players
Governments can strengthen support for companies' marketing and distribution efforts, facilitate international network building and strengthen collaboration between different supporting organizations.
Business educators can strengthen business acumen among budding design entrepreneurs and foster a new generation of entrepreneurs with fresh thinking and new business models
New industry-specific incubators and accelerators can offer with hands-on business coaching and network facilitation to help bridge the way toward investors
Download the whole report here.
More information
Suvi-Elina Enqvist, tel. +358 40 707 8491, suvielina.enqvist@gmail.com
Tuuli Mäkelä, tel. +358 50 330 3245, tuuli.makela@gmail.com
Aalto University Executive Education Ltd
Aalto University Executive Education offers high-quality leadership development services (Aalto EE), professional development services for experts and managers (Aalto PRO), and creative solutions covering the whole life-cycle of entrepreneurship (Aalto ENT). Aalto University brings to our offering a multidisciplinary approach, together with innovative learning methods; this provides a unique combination of practical expertise with latest research.
Aalto University Executive Education's strengths lie in its global operating model and diverse offering. In addition to Finland and Singapore, we offer programs in several locations. Aalto University Executive Education holds three respected accreditations: AACSB, AMBA, and EQUIS certificates. This places it in the top 0.5 per cent of the world's institutions.