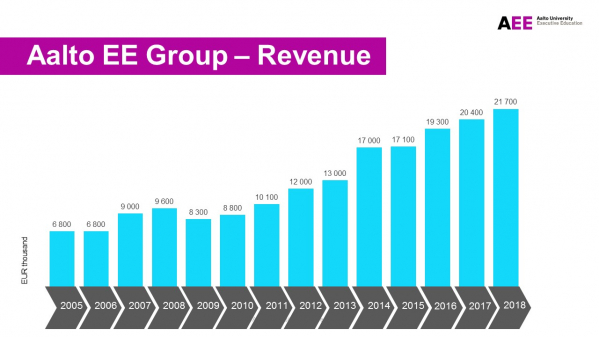 Lue suomeksi.
Every year, the operations of Aalto EE provide a sizeable income to the Aalto University community in various forms such as dividends, lecture fees as well as rent. The financial footprint in the Aalto community continued to grow in 2018, amounting to approximately EUR 3.7 million (EUR 3.1 million in 2017).
"We are only a small player in the Aalto University as a whole, but the role of Aalto EE is significant in strengthening its social impact. We provide a shortcut to corner rooms, reaching approximately 7,000 executives and key experts annually in different industries and countries," Group Managing Director, Professor of Practice Dr. Pekka Mattila says.
Lifelong learning becomes the new normal
Aalto EE is determined to grow in the following years as well. The market is fertile, as lifelong learning and self-development have become the new normal. In 2019, the company is poised to make new initiatives in the areas of new financial models, personal coaching and public management.
In addition, the nature of Aalto EE's activities in Asia is being re-established as increasingly network-based. A global MBA program, organized together with the ESADE Business School, commenced in November 2018. At the same time, a memorandum of understanding was signed with Singapore University of Technology and Design—one of Singapore's ambitious national projects—on a comprehensive management and technology-focused program to be launched later in 2019.
More information
Pekka Mattila
Group Managing Director, Professor of Practice,
Aalto University Executive Education Ltd
Tel.: +358 40 738 7221
pekka.mattila@aaltoee.fi
Aalto University Executive Education Ltd
Aalto University Executive Education Ltd offers thought-provoking leadership development. Aalto University brings to our offering a multidisciplinary approach, together with innovative learning methods; this provides a unique combination of practical expertise with the latest research.
Aalto University Executive Education's strengths lie in its global operating model and diverse offering. In addition to Finland and Singapore, where it operates under the name of Aalto Executive Education Academy, Aalto University Executive Education offers education programs in multiple locations worldwide. As a part of Aalto University, it holds three respected business university accreditations – AACSB, AMBA, and EQUIS – which places it among the top 0.5% of institutions in the world.