Geringer has seen significant development both at Aalto EE and in Finland throughout the years.
"When I first started coming to Finland, the Russia trade had dropped and it was during the depths of the lost generation. My Finnish students were not as comfortable with English as their peers are today, and they were perhaps not as comfortable in international contacts. They were great students, but more stereotypical 'perform well, keep quiet and just be engineers'," Geringer reminisces.
There is a different set of eyes than there was a quarter of a century ago."
Like many, Geringer attributes Nokia's success story as a turning point for Finland.
"It brought out a new kind of confidence which was a real game changer. I see this with students at the MBA level and particularly at the executive level. There is a different set of eyes than there was a quarter of a century ago," he says.
Aalto EE has also gone through significant change during the years Geringer has been part of the teaching staff.
"Aalto EE has evolved a great deal from the early days. The staff, facilities and the relationships it has with businesses around the world today are extraordinary – and you have to keep in mind that it was already an outstanding business school back in the early nineties when I first started teaching there. Being part of this journey has been so gratifying, Aalto EE truly is a world-class organization," Geringer describes.
Geringer says that some of his best friends in Finland are people he met during his earliest MBA classes back in the mid-nineties.
"It has been wonderful seeing them become prominent leaders in their industries," says Geringer.
"I have a godson in Finland, Ville Michael. One of my proudest moments was having my great Finnish friend name his first son after me," he adds with a smile.
Simulations as a cornerstone of teaching
Geringer was trained as a case teacher, and he has written more than 40 cases that have been distributed around the world by universities such as Harvard.
While Geringer admits that he loves the practical aspect of cases, he says that simulations often provide an even more active learning experience for students.
Simulations enable dynamic learning that is based on the students' own choices."
"I love simulations. I've been using them in teaching for over thirty years. Simulations enable dynamic learning that is based on the students' own choices. This kind of engagement makes learning so compelling – and it makes people more receptive to teaching and ideas, because they recognize that they cannot blame anyone else for their performance," he explains.
Geringer gives his students feedback throughout simulations, but he emphasizes that it is not his goal to ensure everyone is successful. His goal is to make students learn.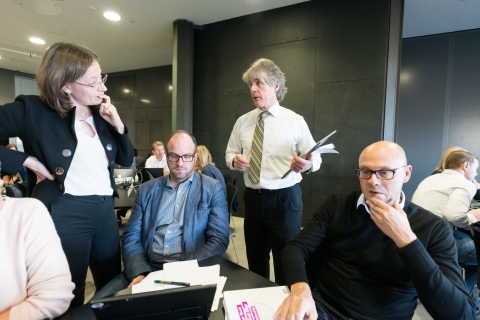 "You need to help students, but not do the work for them. Sometimes this means allowing someone to fail, so they will experience the challenge and use that as a basis for learning," says Geringer.
In some cultures, saving face is very important. Geringer says he tries to be sensitive to this when he teaches in difference parts of the world like he does at Aalto EE.
"Finns, for example, often enjoy a challenge. They can take a hit to the gut with bad performance and just brush themselves off and go back at it again," Geringer notes.
Original research from emerging niche industries to innovation networks
Geringer always has a multitude of projects underway. In addition to a textbook on international business he is currently writing for the global audience, he has numerous ongoing research projects.
One area of interest for Geringer is looking at Schumpeter's notion of creative destruction and how it opens up opportunities for new niche segments, for example how organic agriculture has been given a boost by the emergence of biotech.
"I've been a vegetarian for over 40 years and I was raised on an organic farm. My coauthor was raised on a farm in Nigeria, so we are enjoying this project immensely," Geringer says.
Geringer's passion for research is apparent when he describes his projects. A second line of research he is currently interested in is studying auditing.
I believe organizations like Aalto EE are exactly what we need to address key problems and opportunities."
"We are bringing economics and strategy into our analyses of auditing, and looking at how organizational or national culture can influence what people see. It's truly fascinating. The pace and effectiveness of how auditors recognize new issues and highlight them has huge impact on the valuation of companies," he explains.
A third area of research that Geringer is excited about is studying emerging innovation networks in academia.
"We are currently researching innovation networks in Europe – how networks emerge and evolve both within individual universities and particularly within networks of universities. This is such a fun line of research!" Geringer asserts.
"Today, we are seeing more and more integration across regions and institutions. I believe organizations like Aalto EE are exactly what we need to address key problems and opportunities. The Aalto EE model is a great example of how to deliver value for students, businesses, and future leaders. It's not just what we teach, it's how we deliver the information," he underlines.
Looking forward to the next 25 years with Aalto EE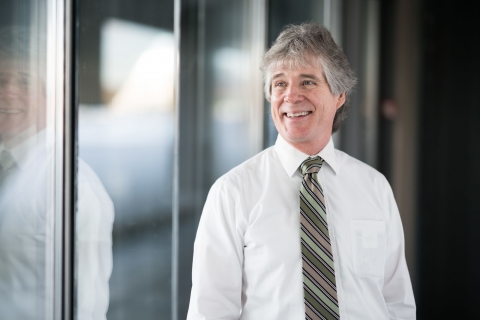 Geringer characterizes teaching at Aalto EE as highly enjoyable. He has taught for example venture capital, strategic alliances, M&A, and business strategy projects at various Aalto EE locations, including Singapore, Beijing and Helsinki.
Geringer says his favorite thing about teaching is transforming how someone sees the world.
"The excitement when the proverbial lightbulb goes on! It is a wonderful thing to see. I feel that if you are not out in the field consulting and teaching, it is really easy to fall into old models of how things used to be, and that ivory tower trap that I think many academics are stuck in," he ponders.
"I have such a rewarding job; I feel grateful for it every day. I've lived all around the world: Africa, Australia, Asia – and while I am back in the U.S. now, I travel internationally at least once a month. I am constantly forced out of my comfort zone, learning about new industries and countries, and meeting new people. It's a fantastic life," he affirms.
When asked about his future plans, Geringer laughs and says that he plans on teaching, consulting and conducting research for a long time still.
"My father is 95. He reads three books a week and goes to the gym every day. I had an aunt that lived to 115. A few years ago, I had a wakeup call. I had a major concussion that prevented me from travelling and working for a while. I am back 100% now, and that experience made me realize just how fortunate I am, doing what I love. I am looking forward to the next 25 years with Aalto EE and seeing where the organization grows from here," Geringer says.
This story is part of Aalto EMBA 30 years series. You can find the other stories of the series below. Read more about Aalto Executive MBA.