Designer and creative director Johanna Uurasjärvi learned her lessons early. Take care of your own brand. If the product doesn't sell, change it. And if in America, smile. Those lessons have taken her to the top of American design industry. Journalist Anu Partanen met Uurasjärvi in New York.
International careers can begin in many ways. It might be connections made online, participation in a student exchange program, or climbing the ladder within a global company. Or it might be Mr. Chow.
He owned a chain of apparel and knitwear factories in Hong Kong, Johanna Uurasjärvi recalled recently as she sat in her New York offices. She was trying to explain how a Finnish girl in her twenties had ended up designing sweaters in the 1980s in Asia. Now the Senior Vice President of Design at West Elm, a fast-growing American furniture and home accessories company based in Brooklyn, the 52-year-old designer has often thought back to her beginnings this year.
Uurasjärvi had already spent some time in the United States, and the place where most of her fellow students were aiming to go, London, seemed too close to home.
Mr. Chow, the knitwear magnate, happened to be—for some strange reason, as Uurasjärvi put it—the honorary consul of Finland in Hong Kong, and in that capacity Mr. Chow had gotten to know a professor at Uurasjärvi's school in Helsinki. It was the year when all students of fashion design at the school—which today has become Aalto University—were looking for internships. Uurasjärvi had already spent some time in the United States, and the place where most of her fellow students were aiming to go, London, seemed too close to home. So she got in touch with Mr. Chow. The details of the arrangement have slipped Uurasjärvi's mind—let's not forget, though, that this was a time before the internet, cell phones, or cheap flights to Asia—but she still remembers her arrival in Hong Kong, and the hostel she stayed in at first, since no one at any of Mr. Chows companies knew what to do with their exotic new intern, including where to put her. Eventually she found an apartment and got to work.
One reason Uurasjärvi has been thinking about Hong Kong this year is David Bowie. The musician, who passed away in January, lived in Manhattan, just across the river from West Elms headquarters, but his music was also a feature at Uurasjärvis graduation. After her return from Hong Kong, her master's thesis consisted of a knitwear collection that incorporated classic Chinese characters, and a written analysis of Hong Kong's apparel manufacturing. As models walked the stage, Bowies song China Girl played.
Another reason is that the thesis project itself taught Uurasjärvi one of the first important lessons of her career. While working on it, she focused on the writing component more than the sketching. Her reasoning was that because she wasn't very good at writing, she wanted to learn to do it better. A worthy goal, for sure, but one that brought her final grade down. "Over the years I've learned that if you have an important thing to do, that's not the time to practice," Uurasjärvi says. That's when you lay out your strengths. You practice at other times.
Uurasjärvi's laughter is bubbly and contagious, which is connected to another lesson shes learned since then—a lesson that has come in handy over the past six months, the period during which Uurasjärvi has hit the ground running at her new job at West Elm. For West Elm is well, let's just say that the company is moving, in more ways than one.
Whether visiting West Elms website or its brick-and-mortar stores, a customer is surrounded by blond wood, sleek couches, low tables, colorful pillows, and geometric rugs.
The brand sells everything from furniture to bedding and shower curtains to lighting. The West Elm esthetic nods to mid-century Nordic design but comes with an accessible twist, both in tone and price. In West Elm's world a streamlined couch is paired with a framed graphic design poster, but the lanterns, vases and coffee tables surrounding the couch have a craft-market or Middle-Eastern look. A comfy blanket and an open book are always nearby. As far as the prices go, West Elm's sofas tend to cost about double what an Ikea couch would cost.
West Elm is emphasizing individualization, personal services, and handcrafted, local, and sustainable products.
If you haven't heard of West Elm yet, it's not surprising. The company was started in Brooklyn in 2002, but it has been languishing as a fairly minor operation contained inside the much larger, California-based home accessories group Williams-Sonoma. The parent company boasted annual revenues of $4.7 billion in 2014, and its biggest brand, Pottery Barn, accounted for about half of that income. The net revenues attributable to West Elm reached a relatively meager $670 million. (For comparison, Ikea's revenues reached $37 billion in 2014, with about $4 billion originating in the U.S.) However, in recent years West Elm has become a darling of the American business press because West Elm's revenues have grown steadily in the double digits each year since 2010, beating out the competition. In 2014, West Elms comparable brand revenues grew 18.2 percent, on top of an increase of 17.4 percent in 2013.
Most intriguing, though, is the strategy behind this growth. Contrary to the homeware business trends of recent decades—cheaper products, more self-service, more mass production; in other words, the Ikea approach—West Elm is emphasizing individualization, personal services, and handcrafted, local, and sustainable products. The company says its mission is three-fold. It wants to offer its customers choice and the ability to create a home that tells their story; it wants to build a community with customers, collaborators and associates; and it wants to focus on honest business practices.
Exploring West Elm's recent initiatives on all these different fronts can make one feel dizzy—there seem to be so many of them. The company invites artists and artisans to sell handmade products alongside the company's own mass-scale inventory, often in the artisan's local store. They allow local associations to use the stores after-hours for events such as book signings or gardening and craft lessons. They send their own people to potential customers' homes by offering free interior decorating and paid handyman services—regardless of whether the customer has recently bought a West Elm product or not. They instruct their store clerks to take on the role of a customers trusted friend even if it means recommending products or services outside the realm of West Elm. They have made a public pledge to former U.S. president Bill Clinton's Clinton Global Initiative, stating that by 2017 twenty percent of West Elm's assortment will be Fair Trade certified, with the share rising to forty percent by 2019. They have expanded into office furniture to provide the millennial generation and start-ups with workplaces that resemble homes or that have cool design vibes without costing a fortune. Finally, they have harnessed the power of social media by encouraging customers to take photos of West Elm products in their own homes and share those photos online. West Elm then curates a collection of these photos for their own website, meaning that they have essentially crowdsourced a large part of their marketing.
All these initiatives together have produced a brand that looks and feels current, friendly, stylish, and ethical, yet generic enough to be easily approachable. And perhaps most importantly, it is a brand that is infinitely Instagrammable, always basking in the perfect light.
Meanwhile, behind the scenes, the company has invested in its leadership and staff. Thats where Uurasjärvi comes in.
Uurasjärvis office has views over the roofs of Brooklyn's Dumbo section, the waterfront neighborhood that once buzzed with warehouses and factories but is now better known for lofts housing tech start-ups, design companies, and wealthy residents.
Her glass desk is immaculate and orderly, and behind her a mood board shows images and colors that inspire her right now. She doesn't spend much time in this room, though. She avoids her computer as much as possible, leaving all email traffic to her assistant, and spends her days mainly moving through the building consulting with various design teams—she's West Elm's first creative director to oversee all of the company's design and visuals, including furniture and other product design, packaging, and stores.
I believe in concept building. A lot of companies skip that part."
To bring all the different aspects of production and marketing together, Uurasjärvi puts a lot of her time into creating a concept for each season: a story of who and where the people inspiring the collection are, what their house looks like, and which artists or artwork the West Elm design teams can draw on for color, inspiration, and mood. "I believe in concept building. A lot of companies skip that part, but I've noticed that if you don't build the concept, your designs are not as strong and authentic and their story is missing," she says.
Once Uurasjärvi has presented the concept to the staff, the design teams leave the offices and head to the West Elm makers studio in another part of Brooklyn to create furniture, pottery, and textiles based on the concept. The workspace has kilns—the ovens used to fire pottery—looms, and whatever the designers might need to actually paint, weave, mold, and produce sample items by hand. Uurasjärvi has yet to find time to work in the studio herself, but she hopes to in the future. As a creative person not to mention as the company's creative director, she thinks it's important for her to spend time with the product in a truly hands-on way. Currently she reviews sketches, looks at artwork, and researches images and inspirations for the next season, but she also participates in building mock-ups of stores, creating vignettes (those marketing photos that group items together to create a story of an entire home), and styling settings for photo shoots and store layouts, throwing in a pillow here, removing a vase there.
Uurasjärvi's first experience of the American design world occurred many years before her arrival at West Elm. After she graduated in Helsinki in 1989, Mr. Chow helped her get a job in New York's garment business. The first thing she discovered was that while her studies in Finland had prepared her well for the artistic side of designing apparel, she had almost no working knowledge of the fashion industry's everyday practices. The way New York companies expected designers to sketch, illustrate, and create drawings that show each stitch and seam were new to her. But as far as education goes, she's concluded it was better that way. Now that she's interviewed multitudes of American design students shes realized that while American schools prepare students extremely well for the industry, that approach can make the education formulaic and leave students lacking in more creative skills.
One of the first and most important jobs she had in New York was working for Anne Pinkerton, a one-woman powerhouse, whose eponymous brand became a big name in the 1980s, alongside such luminaries as Donna Karan and Calvin Klein. Uurasjärvi was Pinkerton's right-hand woman for six years. The two were twenty years apart in age, but became fast friends and traveled the world together looking for inspiration—two months in Hong Kong, then off to India or France—and sketched collections side by side. Pinkerton used beautiful fabrics and created clothes that were well tailored but driven by prints and patterns. She had force, vision and passion, but didn't always excel in focus or knowing when to put on the brakes.
During her time with Pinkerton, Uurasjärvi mastered many aspects of the business, from using print and patterns to leading teams and hiring new employees. She still travels constantly and takes her own teams on inspiration trips. Using colors, patterns, materials, and ideas from nature and cultures from all over the world has become an essential part of her creative process. But she also came to appreciate the realities of the garment industry. Pinkertons business grew and shrank while Uurasjärvi was there, until finally Uurasjärvi knew that for the sake of her own career she had to move on. It wasn't easy—Pinkerton is still godmother to Uurasjärvis son.
The final lesson Uurasjärvi took away from that job can sound a bit brutal, but many would say that in the competitive world of fashion, it's simply realism. "It taught me that you have to take care of yourself. Every designer is almost like a business or brand in herself, so you have to make sure that you are prepared for anything."
Here is a customer, the customer rules, and we're going to make this and make it right here in Philadelphia, and we'll do whatever it takes to get the customer what she wants."
Uurasjärvis next endeavor, however, was not as good a fit as Pinkerton had been, even though it too taught her something very valuable. With Pinkerton, Uurasjärvi had worked in the rarified world of designer fashion, where the designer creates a collection, presents it to the world and then leaves the stage. Stores buy it wholesale and take care of selling it. Now she worked for a Philadelphia maternity wear retailer, which meant that the items she designed were taken directly to the same company's stores. "They were really hardcore retail people," Uurasjärvi says, laughing. "It was like, if this is selling now, we've got to make some more tomorrow, and speed is life, and weve got to deliver. Here is a customer, the customer rules, and we're going to make this and make it right here in Philadelphia, and we'll do whatever it takes to get the customer what she wants."
The experience was the career equivalent of taking a cold shower for the young designer, but by no means useless. "It taught me American retail, and it taught me that if your business is not good, a good merchant goes to the store and looks at what's going on. Is a dress not selling because it doesn't fit under a coat? Are you trying to sell sweaters in scorching-hot Florida? You can immediately see what's wrong. You can go back, get your teams going, and I've seen it happen, you can fix your business real fast if you know what's wrong."
As a result, Uurasjärvi still goes to West Elm stores to talk with customers, and over the years shes found her own way to navigate that essential conflict every creative person faces when working for a commercial business: how to combine one's desire to stay true to a vision with the requirement to also make a profit?
"For some younger designers, it may throw them off balance, because they can go either way. They can fight the reality, or they can take the reality in so much that they lose their creativity," Uurasjärvi observed. "I've been doing this for a long time, and now I just switch hats. I put the creative hat on first. Then I take it off, put the merchant hat on, and look at the design again. It's all about balance."
In addition to teaching her the importance of listening to the customer, the short-lived sidestep in Philadelphia retail introduced Uurasjärvi to the person who would lead her to her next, career-defining job.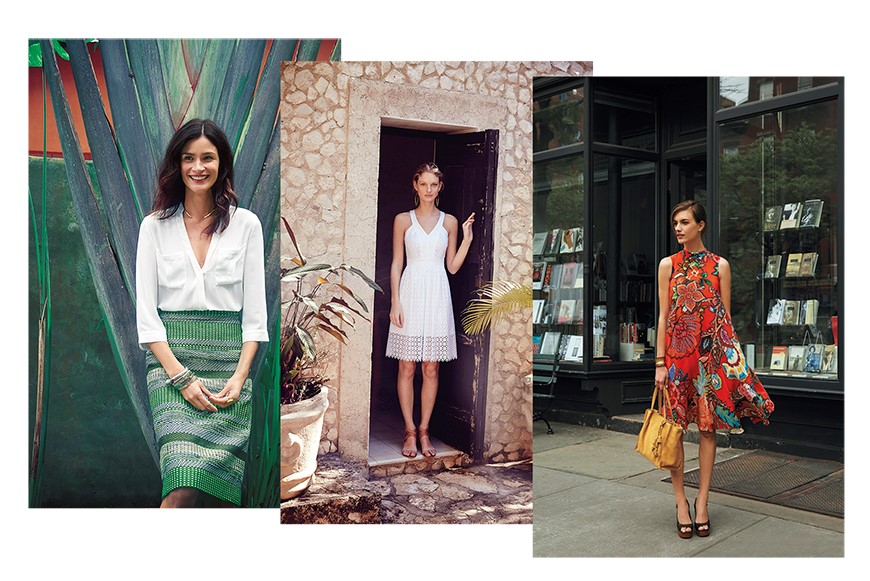 Photo. Uurasjärvi worked at Anthropologie as head designer and creative director for fifteen years. The Anthropologie styles pictured here are from February 2015 (left), May 2014, and August 2015.
When you visit almost any shopping street of a major U.S. city you're bound to run into an Anthropologie store.
There are five in Manhattan alone, and in addition to the U.S. the chain operates stores in Canada and the UK. Its parent company is Urban Outfitters, Inc., whose namesake chain Urban Outfitters sells clothes, bags, shoes, jewelry, and homeware to youth in their twenties. By contrast, Anthropologie targets affluent yet bohemian women in their thirties. For a Nordic person, an apt comparison might be an upscale version of the Swedish chain Indiska: Anthropologie stores mix romantic apparel—flowing dresses, flower prints, and lace details, boxy cardigans, silk blouses, and floppy hats—with rustic armoires and dressers, and lots of scented candles.
When Uurasjärvi started at Anthropologie fifteen years ago, it had twenty-eight stores; now it has more than two hundred. Uurasjärvi was the chain's first designer. She was brought in by a woman named Wendy Wurtzburger, with whom she had worked at the maternity wear company, and who had since become the head of merchandise at Anthropologie. Started in Philadelphia in 1992, for the first eight years of its existence, Anthropologie had been mostly buying items from outside designers. Under Uurasjärvi's lead, though, the company started creating in-house collections. Uurasjärvi thinks the step was a natural progression for a growing company, and it allowed Anthropologie to offer its customers truly unique designs and to build its own brand identity further. Of course, it also led to higher profit margins.
I wanted to pull from my Scandinavian heritage, which is good design, its minimal, its inspired by nature, and there's simplicity but elegant beauty in it, too."
As the first in-house designer, Uurasjärvi also had to create her own job description, and that's when she remembered the lesson from her thesis: when it matters, focus on your strengths. So at first she ignored home accessories and focused on designing clothes, because that was what she knew best. The collections took off, and soon she started to design home accessories as well. Over the years she spent with the company she rose to the position of Executive Creative Director of all of Anthropologies product design—undoubtedly one of the most influential positions a Finn has ever held in international fashion and the home accessories business.
For all the pieces of the puzzle to come together to ensure Anthropologie's success—and Uurasjärvi's career trajectory—one more thing had to happen: Jim Brett, the current president of West Elm, arrived at Anthropologie and upended its home merchandising. "Those were amazing years," Uurasjärvi recalled fondly. "I worked with some amazingly talented people, we developed our own products, and the business was just growing very rapidly."
Anthropologie and its parent company also allowed Uurasjärvi to realize another dream: creating her own clothing brand from scratch. The line was called Leifsdottir, a nod to Uurasjärvis Nordic homeland, and while Urban Inc. owned the brand, it was sold in high-end department stores such as Bergdorf Goodman, Bloomingdales, and Neiman Marcus. Uurasjärvi's vision for the line was clear.
"I wanted to pull from my Scandinavian heritage, which is good design, its minimal, its inspired by nature, and there's simplicity but elegant beauty in it too. And I wanted to combine that with my inherent ability to be a great storyteller, and layer that storytelling with print, pattern, and color. I also really wanted it to be about the craft, fine-tailoring of every detail inside and outside the garment."
The line launched in 2008 in the midst of the financial crisis. Even though the industry around it was crashing, Uurasjärvi's creation was received well. Celebrities and fashion icons like the singer Taylor Swift and the actress Sarah Jessica Parker were seen wearing the brand, and American media fawned over Uurasjärvi's way of combining Nordic simplicity with far-flung colors and patterns, for example from the Amazon jungle or an Istanbul spice market. Fast Company picked Uurasjärvi as one of the most creative people of 2011, and The New York Times featured her and Leifsdottir in a profile that included acclaim from the industrys gatekeepers. (The clothes sell, concluded a merchandise manager at Bloomingdales.)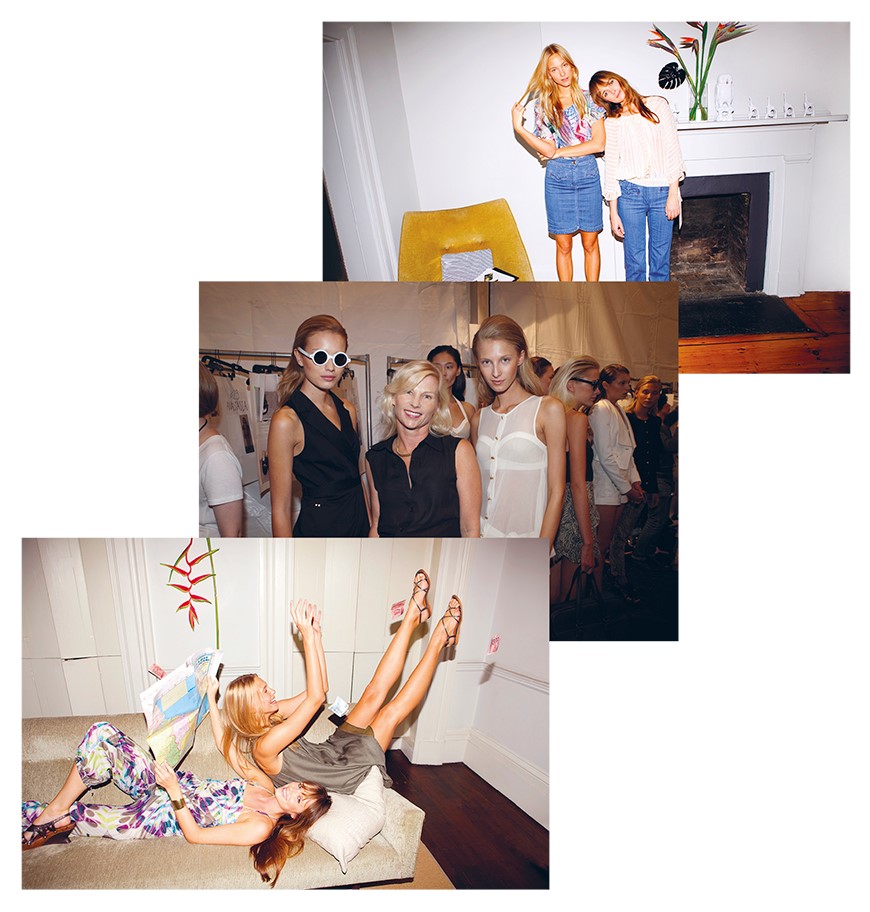 Photo. Johanna Uurasjärvi's brand Leifsdottir showed its spring 2011 collection at New York Fashion Week. The materials and prints were inspired by Uurasjärvi's trip to the rainforests of the Amazon.
In the end, however, the interest wasn't enough. A few years after the launch, Urban Inc. decided to pull the line back from the department stores and start selling it exclusively in Anthropologies own stores. For Uurasjärvi the decision was a disappointment. "Of course it was hard, but I totally understood why they were doing it," she said. American department stores are not always the easiest collaborators to work with, and Anthropologie wanted Uurasjärvi to focus again on the overall design of the company. She's still grateful for the opportunity she was given.
"It was wonderful. It was great to be able to just think what you want to do, create a brand identity from scratch, and put all your vision, thoughts, and things you have collected over the years into a collection. I really like to edit and filter, to hone and polish the vision. What do you like, what is your design hand like, what do you want to say to the customer. Whats the brand DNA?"
When you launch something new, you better make sure that your vision is so tight that it can cut through the noise and stand out in the marketplace."
Again, she came away from the experience with several lessons. "First of all, when you launch something new, you better make sure that your vision is so tight that it can cut through the noise and stand out in the marketplace. And it has to be exactly right from the get-go. When anyone launches something new, everyone is very excited about it," Uurasjärvi explained. "Thats when youre going to get all the press and PR and everyones going to come and look at it. So whatever you put out there, you have to invest in it being right."
Leifsdottir had a good launch, but Uurasjärvi thinks they didn't invest enough in marketing from the beginning. At the time she was still overseeing Anthropologie as well and had her hands full, but Leifsdottir didn't have a separate creative director for marketing to oversee all the graphics, photo shoots, social media, and events. They hired one later, and it helped, but by then it was too late. After the line and Uurasjärvi were brought back to the Anthropologie fold, she continued to work on Leifsdottir, but eventually it became evident that her and Anthropologie's vision weren't aligned anymore. And that's when she faced the other essential conflict every creative person working for a commercial business will encounter. If a designer is a brand unto herself and needs to have a vision, that vision needs to be in line with the company he or she is working for. It's a conflict not easily solved, as one can see simply by observing the revolving doors of the world's most famous haute couture houses.
"When anyone is looking for a job, it's probably the most crucial thing to think about," Uurasjärvi said. "The culture of the company, the vision of the company, and the health of the company organization. Your vision must match theirs, and you have to feel like youre culturally a good fit. I've been lucky to have that. One of the reasons why I'm here at West Elm is because of that."
The move was made less risky by the fact that Uurasjärvi knew West Elm's president Jim Brett already from their years of working together at Anthropologie, and she trusted his skills and vision. "When Jim came to Anthropologie, he turned around the whole business. I always thought he was one of the very best merchants that I ever worked with. And I knew how good a person he is, so it was an easy decision on that front."
So far, she has not been disappointed.
With its humanized approach to business, West Elm is tapping into the hipster-led local movement and crafts movement that Brooklyn has become famous for—think artisanal chocolate, farm-to-table restaurants, small breweries, homemade pickles—and bringing it into the world of chain store business.
The strategy is similar, if not as all encompassing, as the one used by the fresh, organic and expensive grocery giant Whole Foods, which also stocks items from local producers next to national brands.
Its not all hippies and flowers, though. The majority of West Elm's products are still mass-produced and the design is not that far from Ikea's friendly Scandinavian style. However, emphasizing a more personal relationship with customers can create more loyal customers. Uurasjärvi describes West Elm's strategy as two-fold.
"I think West Elm has positioned itself really well, because they really understand the customer, especially the millennial customer. I would say they understand the customer of today, who really cares about where and how things are made. It matters to them. You look at young people, and they want to know where they're putting their money."
It's not about a three-page advertisement in Vogue anymore. It's about Instagram, Pinterest, and bloggers."
That's the first part of the strategy, and that's what all the local, artisanal, and certified products are about. The second part is understanding that it's not about West Elm. It's about the customer. West Elm's approach is we're not here to dictate to you. It's your style. We're here to help you to build your own style and your own vision.
Ask Uurasjärvi to name the biggest change in her field during her career, and she doesn't hesitate. It's the effect of social media.
"We are more customer-centric, which I love. I love how big marketing in magazines is so much less important than what comes through the social media. It also strengthens small companies, which will allow for more innovation. I think at West Elm we capitalize on that. Even if we're a big company, we support so many smaller businesses, whether we collaborate with them or whether each store has their own local collaborators and they show the local product from that area."
It's not about a three-page advertisement in Vogue anymore. It's about Instagram, Pinterest, and bloggers. Indeed, social media's power to make or break companies cannot be underestimated. And that power cuts both ways, as West Elm is discovering. While the company generally manages the digital world remarkably well, recently frustrated customers have flooded the company's public Facebook page with complaints about what appears to be an epidemic of problems with customer service and home deliveries. For an outsider its impossible to know how big the problem really is, or whats causing it, but visiting the page doesn't give a casual Facebook user much confidence in West Elm's logistical skills.
In addition to the rise of social media, there's another new piece for Uurasjärvi, and that's her transition into the world of furniture, a relatively new area for her, and one that she seems to be handling remarkably well. How is it possible for one person to design everything?
"I do design shoes, handbags. I design everything. I always say, From silverware to sofas. The best example is what I did when we were asked to launch shoes for Leifsdottir. I really wanted to know how to make them, so I went to Brazil, I visited the factories, and I looked at how they are put together."
Everybody has to be able to roll up their sleeves and get to work, even if the work at hand is not always exactly what they most like to do."
Learning the craft before designing is Uurasjärvi's approach. At West Elm, she is eager to visit the company's furniture factories to learn more about the technical aspects of making furniture. Without that knowledge, she feels like she is directing the furniture design teams from the surface. On the other hand, it's all about the team. She thinks of herself as someone who has lots of ideas and is good at inspiring people and leading, and she is naturally curious and skilled at spotting trends. But she benefits from working with other people who bring their own expertise and ideas to the table. Ideally, the final result is better than she could have ever imagined by herself.
She also appreciates West Elm's efforts to make their production sustainable and transparent. "After a while, traveling these factories and seeing the world, you want to be in a place where it's about more than just making the product. I saw our fair trade factory in India making the rugs, and it was such a happy moment. The people there were so excited and proud of what they were doing, and their stories are just incredible."
Moments like that help her live by the final lesson she's learned, the one that relates to her contagious laugh. As a team leader, she says, you have to stay positive even though it's not always easy with so many things going on. "In a company like West Elm, everybody has to be able to roll up their sleeves and get to work, even if the work at hand is not always exactly what they most like to do. And they have to be able to do it with confidence and positive attitude," she said. "Everything in America, you have to be able to smile and get through it."
That, it seems, Uurasjärvi has definitely learned.
She doesn't get pulled down by reality
Wendy Wurtzburger, an independent retail and brand consultant, explains why she hired Uurasjärvi to work at Anthropologie:
"I joined Anthropologie in 1998 as the Head Merchant of Womens. Johanna joined in 2000 as Head Designer of Womens. We both grew in the brand, built the signature look and the business, and gained responsibility for the customers entire lifestyle including home. I was Co-President, Chief Merchandising Officer and Johanna was Executive Director of Design for Anthropologie and Chief Creative officer of Leifsdottir.
Johanna has an original point of view and a wonderful imagination. Her love for fashion adventure and storytelling and appreciation and desire to collaborate with likeminded creatives is very special.
We created a unique partnership between merchandising and design, and built a culture of partnership all in order to build the Anthropologie brand."
She is also smart and strategic, very good at building process, thinking about the customer and editing ideas to make an impact along with a beautiful and unique product.
She doesn't get pulled down by reality and is brilliant at inspiring and creating an emotional connection with the customer.
She appreciates the customers needs and way of living. However, she always gives her customer something to raise her spirits and make her look or live in a beautiful way.
These talents are why I brought her on board at Anthropologie, but there was a selfish component as well. I love working with her, she has more energy and drive than anyone I've met, she loves to travel and collaborate, and we complement each other as she is a strategic designer and I am a creative merchant.
We created a unique partnership between merchandising and design, and built a culture of partnership all in order to build the Anthropologie brand.
We were about product first. She pushed to make the product magical, and I led the merchants to communicate the reality of what was needed.
We traveled and envisioned the business as a team and we were able to balance the special with the accessible, the key silhouettes with our original point of view.
It was a magical combination."
A distinctly feminine perspective
West Elm Brand President Jim Brett describes why he hired Uurasjärvi to work for West Elm:
"It was a great privilege to be able to work with Johanna during my career at Anthropologie. She inspires like no one else. Johanna has an incredible eye for color and print, and we share a passion for design and global craft. She has already brought a distinctly feminine perspective to our product development and is shepherding in a new modern aesthetic for the brand."
Photos by Kristiina Wilson
This is one of the long form articles in Aalto Leaders' Insight - magazine Vol. 4. The whole magazine can be read in Issuu.